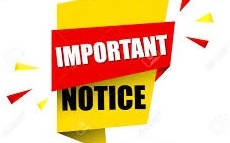 Notice of Change of Submission Deadline for Immigration Consultancy Applications
NOTICE IS HEREBY GIVEN that the new submission deadline for applications for registration as an immigration consultant will be Monday, 28th October, 2019. The change has been necessitated by the fact that Friday, 25th October, 2019, which was the initial deadline, will now be a Public Holiday.
Applications, together with relevant documents should be hand-delivered at Immigration Headquarters in rooms 201 0r 202 no later than 17:00 hours.