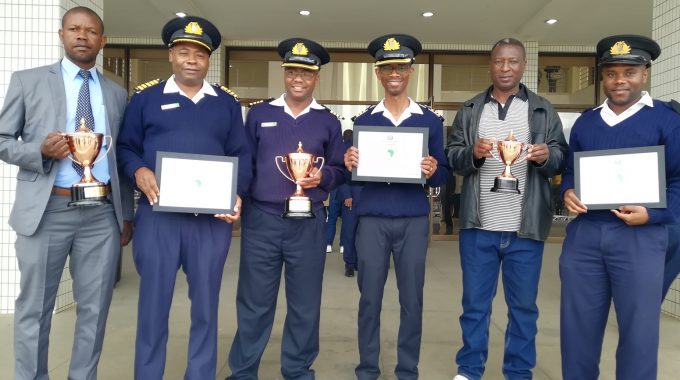 Immigration Scoops Multiple Awards at the Africa Public Service Day Celebrations
The Department of Immigration has scooped multiple awards at the 2019 Africa Public Service Day Celebration Event held on 23rd June, 2019 at the New Government Complex. The Department won the overall best Exhibitor award and 1st Prize in the category 'Best Innovation in citizen centred service delivery'. The Department was further recognized with the second prize in the category "Best Ethical Well Managed Accountable, Transparent and Accessible Organization".
The Department took part in the Africa Public Service Day Road Shows from 19th to 21st June, 2019, at East Park Mall in Lusaka, culminating into the celebration event which included the awarding of deserving exhibitors, on 23rd June, 2019. The 2019 theme was "The Intersection of Youth Empowerment and Migration: Entrenching a culture of Good Governance, ICT and innovation for inclusive service delivery."
The awards are a fitting recognition of the trend setting advancements the Department has made in transforming its way of doing business by upgrading the Zambia Immigration Management System (ZIMS) through the Consolidated Immigration System (CIS) Project.
The upgraded system enables applicants to submit, track status, and receive communication about their applications for permits, online. The CIS Project has introduced an e-Payment Module, which is a gateway for connecting to online banking interfaces and processing payment data input/output using popular web service protocols. This module has been implemented for both applications for e-Visas and the various Immigration Permits. More payment options will be added.
The new system also introduces card type permits which will be printed by high end card printers. Printing of the cards will be on demand, to prevent wastage in cases where applicants never show up to collect. The traditional manually written Government Receipt (GR) has been replaced with an Electronic receipt which is also printed directly from the system.
Speaking after touring the exhibition stands on Friday, 21st June, 2019 the Acting Secretary to the Cabinet, Mr. Patrick Kangwa was full of praise for the Department. "Smart Zambia Institute is going to change the way we do Government business. It will reduce the cost of doing business, improve accountability, efficiency and effectiveness" He said. The Acting Secretary to Cabinet added "…if you go the Immigration Stand, it shows you how Government is doing things differently".