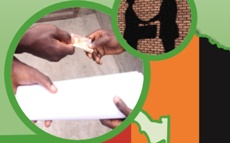 Immigration impresses in 2019 Zambia Bribe Payers' Index (ZBPI) Survey Report
The Department of Immigration has recorded consistent progress in the latest Zambia Bribe Payer's Index Report which was officially launched on 18th September, 2019 at Government Complex, Lusaka. The Department scored 0.6, meaning that an individual has a 0.6 % likelihood of paying a bribe sought when seeking a service from the Department of Immigration.
Further, the report shows a consistent decrease in the likelihood of paying a bribe to Immigration Department with a score of 7.0 in 2009, 4.7 in 2012, 4.9 in 2014, 2.0 in 2017 and 0.6 in 2019.
Reacting to the report during the launch, the Transparency International Zambia (TIZ) Chapter President, Mr. Rueben Lifuka applauded the Department of Immigration and selected Government Ministries, Departments and Agencies (MDAs), for scoring impressing results which showed that there were low or no possibilities for people paying bribes if they sought services at the institutions.
"There is a glimmer of hope that with consistent action, we can rid our institutions of bribery. We want to applaud government departments and agencies like the Immigration Department, Ministry of Finance, Patents and Companies Registration Agency, NAPSA, Public Service Pensions Fund, Ministry of Works and Supply and ZAMTEL, where the results show there are lower or no probabilities of paying bribes by the public seeking services. This is encouraging and we would like to commend these institutions for the measures they are taking to curb bribery". Mr. Lifuka remarked.
Mr. Lifuka also took time to encourage the Department and other MDAs to continue to cement organizational cultures that will be anchored on a zero-tolerance to bribery and other forms of corruption and urged them not to relent but remain beacons of hope to the public.
The Department has made trend-setting advancements in transforming its way of doing business by upgrading the Zambia Immigration Management System (ZIMS) through the Consolidated Immigration System (CIS) Project.
The upgraded system has introduced online submission of permit and visa applications, as well as online payments. The new system also introduced card type permits and replaced the use of the manually written Government Receipt (GR) with an electronic receipt. These interventions, together with other initiatives, have drastically reduced the direct interaction between clients and our service providing officers, thereby improving transparency, accountability, efficiency, and effectiveness.
The Zambia Bribe Payers Index (ZBPI) is a corruption measurement tool based on a countrywide seeking behaviour from a public officer in a public sector institution.