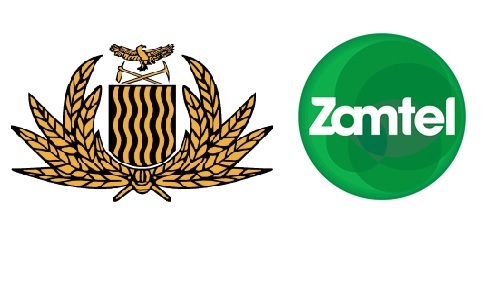 The Department of Immigration and Zamtel Launch Online Payments for Immigration Fees
LUSAKA, 9th April 2020– Zamtel has partnered with the Department of Immigration to launch digital payments option for various services under the Department using ZamPay and Zamtel Kwacha, which are digital payment platforms.
The partnership will see various payments for Immigration such as payment for Permits both new and renewals through ZamPay and Zamtel Kwacha thereby eliminating human contact and handling of physical cash, a measure which will also help the fight against the spread of COVID-19.
Announcing the partnership, Zamtel Chief Executive Officer Sydney Mupeta stated that the new payment option which went live last Friday, 3rd April 2020, will enhance client convenience and promote efficiency in the collection of revenue by the Department of Immigration.
"We are excited about this partnership with the Department of Immigration as it again demonstrates our capacity in rolling out Digital Solutions for Government and Private Businesses. The partnership is in line with Zamtel's Agenda of driving Digital Transformation".
"We are confident that this partnership will bring efficiencies to the applicants as well as the Department of Immigration as customers can apply and pay for all these services electronically from the comfort of their homes and indeed from whichever country they are applying from." Mr. Mupeta said.
"Our Zamtel Kwacha and ZamPay platforms are becoming increasingly popular among our customers because they are easy to use and convenient to most of them when making payments for various services," he added.
And the Director General of Immigration Dr. Denny Lungu said the partnership further demonstrates the Department's resolve to fully adopt the use of latest technology in its operations using the Zambia Immigration Management System (ZIMS) through the Consolidated Immigration System (CIS) Project.
"It has always been our intention to widen the payment options for our clients accessing our online services. This is the reason why as a Department, we are very excited about this partnership with ZAMTEL. ZamPay and Zamtel Kwacha are now two more payment options for our clients, complementing the current web-based payment through debit and credit cards, which until now has been the only payment channel for our online services".
"This initiative will go a long way in boosting revenue collection for the Department and ultimately for the Zambian government. Discussions are underway to allow for the collection of Visa fees in United States Dollars," Dr. Lungu said
Dr. Lungu said paying Immigration fees through ZamPay is an excellent payment option in light of the COVID-19 pandemic as it will drastically minimise contact between Immigration officers and clients.
"Further, in line with Government's guidance on social distancing in the wake of the COVID-19 Pandemic, the Department further wishes to encourage all its clients to access various Immigration services online and make full use of the newly launched Contact Centre in order to minimise crowding," said Dr. Lungu.