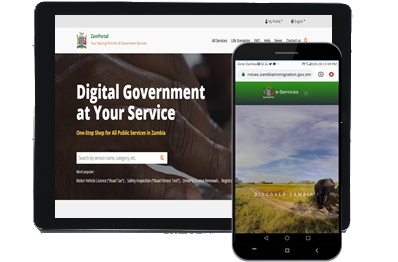 IMMIGRATION SERVICES ADDED TO THE GOVERNMENT SERVICE BUS
The Department of Immigration wishes to inform its clients and members of the public that immigration services, particularly, applications for visas and immigration permits are now also available on the newly developed portal called ZamPortal (zamportal.gov.zm) under the Government Service Bus and Payment Gateway project being implemented by the Government of the Republic of Zambia through the Ministry of Finance and Smart Zambia Institute (SZI).
The ZamPortal was developed to make all public services which can be provided electronically, available in a single place. The Department of Immigration becomes the third institution to be integrated to the portal, joining the Road Transport and Safety Agency (RTSA) and the Patents and Companies Registration Agency (PACRA).
We are excited to be part of the Government Service Bus, firstly because our clients will now be able to access our services together with other public services under the portal which can be likened to a One-Stop Shop. Secondly, since the portal will not replace the eservices portal (eservices.zambiaimmigration.gov.zm) which currently houses all immigration online services, but will simply become an additional point for accessing immigration services. Thirdly, under the ZamPortal, the payment options for immigration services will be expanded. All this will lead to an enhanced customer experience.
While there will be no significant changes to the application processes and requirements for immigration services on both the ZamPortal and the eservices portal, there will be a slight change to the payment receipt format. For the duration of the transitional period, both the current receipt and the newly adopted Treasury Receipt will be acceptable. Eventually, the old receipt will be discontinued.